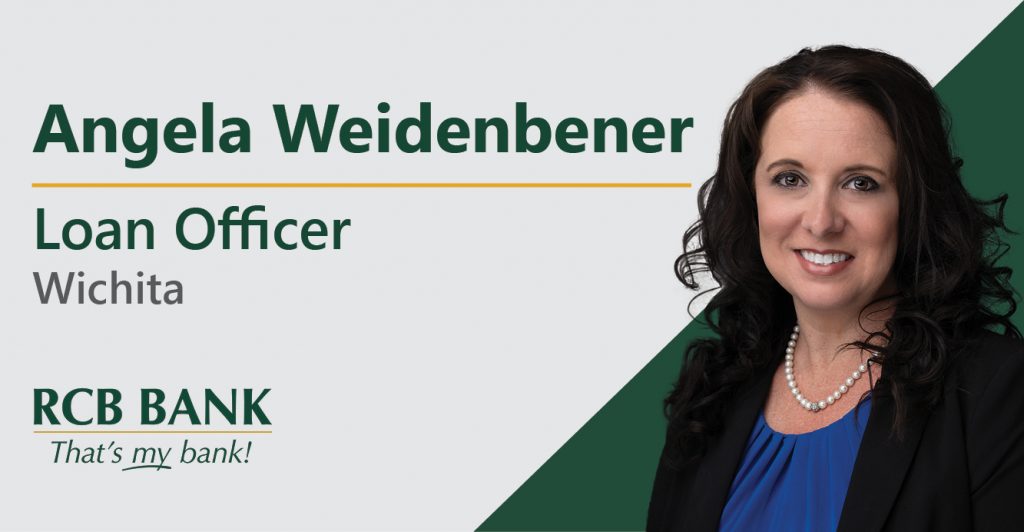 Wichita, Kan. – RCB Bank welcomes Angela Weidenbener as a VP Loan Officer in Wichita.
Weidenbener's professional background includes experience in management, coaching, training and development, credit analysis, small business and commercial banking. She has provided exceptional service and support to Wichita banking customers for almost eight years. She holds a Bachelor of Business Administration from Wichita State University.
"I love collaborating with companies to help find solutions that grow their revenues and protect their business," Weidenbener said.
In March 2021, she was named in the Wichita Business Journal as an honoree in the Women Who Lead in Financial Services issue. Weidenbener expressed, "My passion is helping other women with professional development and promoting female leadership."
She is an active member of the Women in Commercial Real Estate (WICRE) and Wichita Independent Business Association (WIBA). Additionally, Weidenbener is a Kansas Certified Commercial Investment Member (CCIM). Angela has been the beneficiary of several strong leaders and she strives to pay it forward to those who come after her.
Weidenbener takes part in the community through the Junior League of Wichita and serves as a member of the Greater Wichita YMCA Advisory Board in Newton. She has been a proud supporter of various mental health initiatives and animal welfare groups over the past decade.
When not working, she enjoys baking, gardening, reading, baseball, working with animals, and attending her children's sport or school activities. Together with her husband, Tyson, they have raised three children and two grandchildren. She is an avid fan of the Kansas City Chiefs and NASCAR.
Angela Weidenbener
Loan Officer
8411 E. 21st St. N
Wichita, KS 67206
NMLS#

2485887

---

Office:

316.669.6062

---