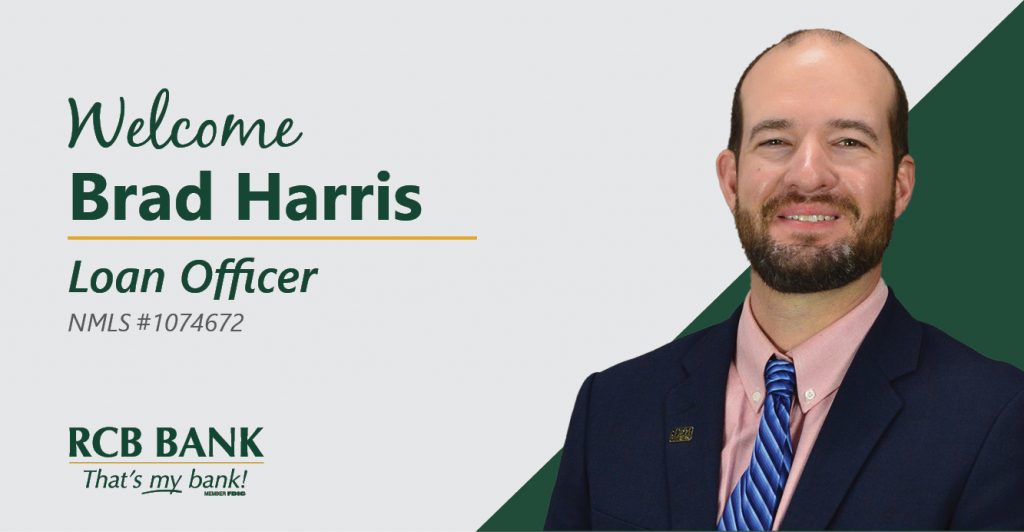 CANEY, Kan. – RCB Bank welcomes Brad Harris as a VP loan officer in Caney, Kansas. Born on a farm in St. Paul, Kansas, and a current farm owner, Harris understands the challenges faced by agriculturalists and desires to help them succeed.
Harris has 11 years of lending experience with an emphasis on small business, commercial real estate and agricultural loans. Driven towards growth and personal development, Harris seeks to elevate his ability to serve his clients, community, and expand his impact within the banking industry. "I'm always continuing my education via the Graduate Schools of Banking," said Harris. He received his degree from Pittsburg State University and later graduated from the Kansas Bankers Association Schools of Banking.
His No. 1 piece of financial advice is "Save, save, save. Everyone needs a financial nest egg to count on in hard times."
Harris has served on the St. Paul USD 505 school board since 2020 and the Economic Development Committee in Erie, Kansas since 2015. He is an active supporter of Neosho County's 4-H and the Saint Paul FFA.
When not working, you're likely to find Harris in the woods, chasing ducks and deer. Together with his wife, Alden, they actively manage their small farm for row crop production and waterfowl habitat. In addition, they have several horses that are shown in team roping futurities and Ranch Horse Versatility shows across the Midwest.
RCB Bank is a community bank with locations across Oklahoma and Kansas. Founded in 1936, RCB Bank is committed to serving its communities with conservative banking practices and progressive banking products. Learn more at RCBbank.bank or give us a call at 855.226.5722. Member FDIC, Equal Housing Lender, NMLS #798151.