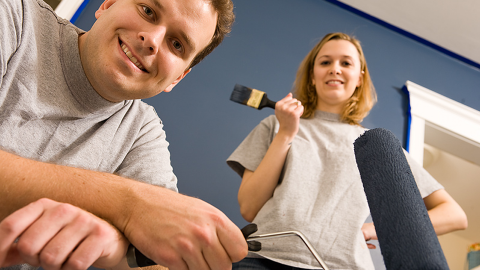 Whether you want to boost the value of a home you just purchased or are looking to boost the value of your home to sell it, making home improvements can increase the value of your home.
The value of your home depends on many factors, including the community in which it's located and the demand for houses in the area.
But some factors you have control over, and these tips can help improve the value of your property as a whole.
Curb Appeal
The first thing you can do is to improve your property's curb appeal. This generally is the easiest and most economic change to make. Your home's first impression goes a long way.
According to a 2020 joint study by the University of Texas-Arlington and the University of Alabama, your home's curb appeal can account for as much as 7% of the property's total value.
It's as simple as power washing your driveway, washing your windows and siding, keeping your yard mowed while adding new plants and fresh mulch. These are things that you can do yourself, and they all give your home a great first impression.
Update Your Kitchen and Bathroom(s)
To many people, the kitchen is the home's greatest feature. And, if we're being honest, outdated or dim bathrooms aren't appealing one bit. So updating these two areas can lead to an immediate increase of value in your home. But, these two areas oftentimes are the priciest rooms to remodel, so keep that in mind.
However, if a complete remodel is beyond your budget, a minor remodel could still impact your house's value. New appliances or a fresh coat of paint on the walls and cabinets can lead to an uptick of value.
A Fresh Look
Speaking of paint, a new coat of paint in other rooms of your home can give it a fresh and updated look. Painting the rooms yourself is a low-cost way to improve the value of your home. A bright coat of paint goes a long way and can add instant charm to your house.
Likewise, painting the doors can have a similar effect. A fresh coat of paint on the front door can make your house look inviting and is another way to improve its curb appeal.
Opinions expressed above are the personal opinions of RCB Bank personnel and meant for generic illustration purposes only. With approved credit. For specific questions regarding your personal lending needs, please call RCB Bank at 855-BANK-RCB. Some restrictions apply. RCB Bank is an Equal Housing Lender and member FDIC. RCB Bank NMLS #798151.
Sources:
https://www.hud.gov/program_offices/housing/sfh/title/sfixhs
https://www.uta.edu/news/news-releases/2020/02/11/curb-appeal