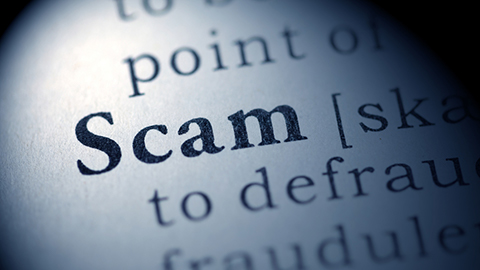 'Tis the season for shopping, gifts, cheer and scams. Scams? That's right; every year fraudsters prepare to take advantage of unsuspecting shoppers. Fake ads and websites try to lure you into spending for items you may never receive. Imposter charities tug on your heartstrings to get a donation. Gift cards are duplicated or stolen before they are used by your loved ones. Learn how to sniff out these common scams and limit your risk this holiday season.
Debit Card Details Phishing
Fraudsters are smart and know that during the holidays we utilize our debit cards often. To seem "helpful," scammers are calling debit card customers pretending to be Fraud Department employees to verify a customer's debit card details. The fraudsters already have the 16 digit card number and expiration date. They are then asking you to confirm the 3 digit security number. Once they get that from the customer, they are then running free making purchases with the card. Remember, the RCB Bank Fraud Department will never ask for such information when they call. While this type of phishing scam is happening currently, it can happen year-round. Stay vigilant, friends!
Online Shopping Scams
During this holiday season, more people than ever are buying gifts online. Scammers prepare for this influx of web traffic with several schemes to steal your money, personal information or both. A common tactic fraudsters use is to create fake social media campaigns and websites that imitate major brand ads, but with great deals. According to the Better Business Bureau (BBB), be wary of ads that promise "last minute deals," "flash sales" or "limited quantities." In many cases, you will not receive the item you ordered or you may receive an inferior counterfeit item. Your credit card information can also be stolen, used to commit identity theft or sold on the dark web.
Gift Card Scams
The most common gift card scam involves tampering with the racks of gift cards displayed in stores. The criminals will use handheld scanners to get the barcode information and periodically call the retailer to see if they have activated the card. Once the card is purchased and activated, they either order material online or create a counterfeit card. The less sophisticated fraudsters will simply scratch off the PIN, record the barcode and wait for the card to be activated. Other gift card scams will create fake websites that offer gift cards to major retail chains in exchange for giving them information.
Charity Scams
Don't let scammers take advantage of your generosity. Similar to real non-profits, scammers will solicit you through email, letters and phone calls. They may even have a website that looks legitimate. It is a red flag if any charity pressures you to donate right away or asks you to donate through a wire transfer or in gift cards. If you are unsure, check the BBB's Wise Giving Alliance or Charity Watch to verify the organization.
What can shoppers do to protect themselves?
Does the holiday deal seem too good to be true? Make sure you know the merchant when shopping online. Research the BBB rating for the business and stick with direct manufacturer websites for products.
Do not click on a link in an advertisement or email as it could contain malware or take you to a cloned website where fraudsters steal your card information, address, etc.
Giving is always a wonderful, positive and uplifting thing to do. Plan to give to certain organizations that you know, especially so you can see the fruits of your good work!
If you feel you have been a victim of identity theft, put in a fraud alert immediately. Details on how to file a fraud alert can be found here. Then report it to the police, your bank and credit card companies. If you feel that you lost your identity due to online activity, please file a report with ic3.gov.
Sources
Scam, Fraud Alerts – Protect Your Digital Identity (aarp.org)
Inside the FBI: Holiday Scams — FBI
Internet Crime Complaint Center(IC3) | Home Page