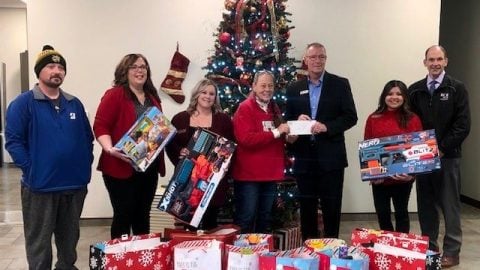 WINFIELD, Kan. – RCB Bank in Arkansas City and Winfield recently made a $500 donation to Angels in the Attic. The donation is just one of many ways RCB Bank and its employees give back to the communities in which they serve.
Along with the cash donation, RCB Bank employees from Winfield and Ark City donated toys and gifts to Angels in the Attic as well.
The branches had a "jeans day" to raise money for the project. RCB Bank employees adopted two families and bought gifts for each of those family members.
"We've been doing this for the past several years," RCB Bank Retail Coordinator Kim Fleetwood said. "We do our best to help take care of our communities."
PHOTO: From left, an Angels in the Attic volunteer, RCB Bank Credit Analyst Raven Nuss, RCB Bank Loan Admin Assistant Kristen Dobbins, Angels in the Attic Executive Director Janice Marr, RCB Bank SVP Market President John Sturd, RCB Bank Loan Admin Assistant Cindy Harper and RCB Bank VP Loan Officer Ron Smith donate money and presents to Angels in the Attic.
RCB Bank is a $4.1 billion community bank with 65 locations in 36 cities across Oklahoma and Kansas. Founded in 1936, RCB Bank is committed to serving its communities with conservative banking practices and progressive banking products. Learn more at RCBbank.com or give us a call at 855.226.5722. Member FDIC, Equal Housing Lender, NMLS #798151.