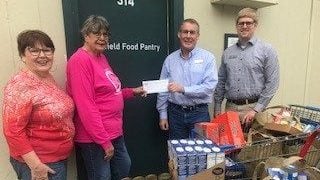 WINFIELD, Kan. – RCB Bank employees have a lot to be thankful for and were aiming to spread some holiday cheer. Which is why RCB Bank recently donated $2,000 total to two local food pantries.
Both Winfield Community Food Pantry and Joseph's Storehouse Food Pantry in Burden received $1,000 donations.
"Generous hearts by many of our employees and customers allowed us to donate a lot of food to the pantries," RCB Bank SVP Market President Gregg Conklin said. "This is the season of giving, and RCB Bank is proud to always give back to our communities."
Employees were allowed to wear jeans on Fridays for approximately two months – if they brought two or more cans of food to donate.
RCB Bank is a $4.1 billion community bank with 65 locations in 36 cities across Oklahoma and Kansas. Founded in 1936, RCB Bank is committed to serving its communities with conservative banking practices and progressive banking products. Learn more at RCBbank.com or give us a call at 855.226.5722. Member FDIC, Equal Housing Lender, NMLS #798151.