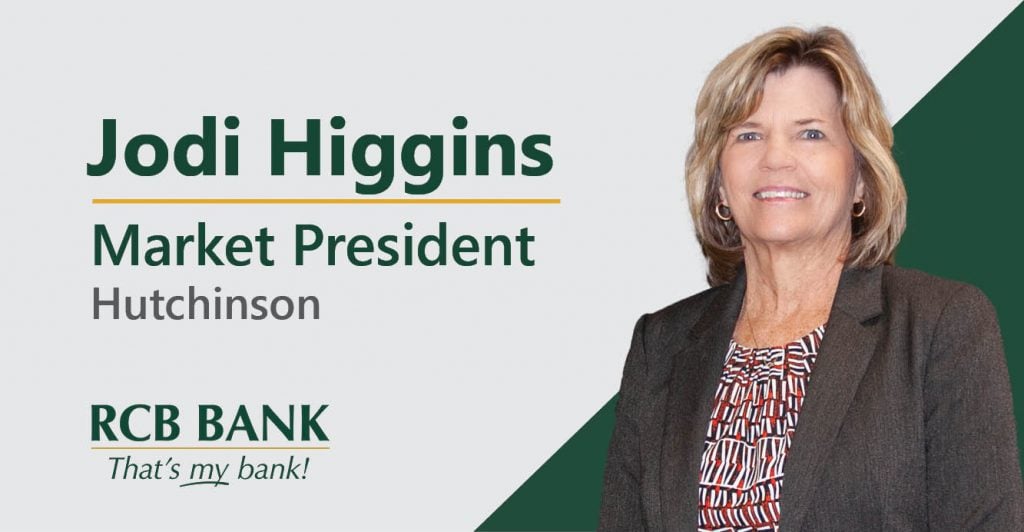 Hutchinson, KS – RCB Bank is pleased to announce the appointment of Jodi Higgins as the new Market President for Hutchinson. Joining RCB Bank in 2018, she brings over three decades of experience in the banking industry with a wealth of knowledge and expertise to her new role. Starting in 1984 as a customer service representative, she climbed the ranks taking on roles such as operations assistant, branch manager, cashier, chief financial officer and most recently the VP Funding Treasury Officer at RCB Bank.
When asked about her motivation for making the change to Market President in Hutchinson, Jodi expressed a strong desire to become more involved with the local community. "When you're in a community-focused role like Market President, the goal is to build relationships and offer the best financial solutions for our customers. I'm excited to be more involved at this level," Higgins commented.
Jodi's primary tasks in her new role include developing and sustaining customer relationships, encouraging employee involvement in the community, and raising market knowledge of the necessity of growth and development for both commercial and consumer clients. She states, "It's important to create a culture that prioritizes exceptional customer service and community involvement, while ensuring growth and profitability. My goal is to foster a team that embodies RCB Bank values."
Jodi embodies RCB Bank's commitment to community, passion for excellence, and a drive to foster meaningful relationships, both professionally and personally. Her journey from a small-town upbringing to a pivotal role in RCB Bank reflects her continuous dedication to growth and service.
In her leisure time she stays active enjoying golf and spending quality time with her family. She is married to Jerry, they have two children: a son, a daughter-in-law, and a granddaughter in Overland Park, and a daughter and her fiancé in Richmond, Virginia.
RCB Bank is a community bank with locations across Kansas and Oklahoma. Founded in 1936, RCB Bank is committed to serving its communities with conservative banking practices and progressive banking products. Learn more at RCBbank.bank or give us a call at 855.226.5722. Member FDIC, Equal Housing Lender, NMLS #798151.