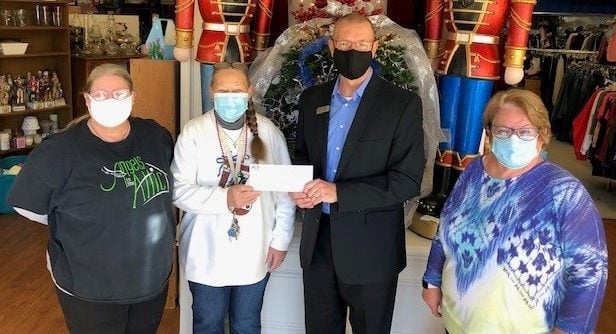 ARKANSAS CITY, Kan. – RCB Bank donated $1,000 and presents for four local families to Angels in the Attic, a local non-profit that helps people in need.
"This has been a challenging year for many in our community. The need is greater now than ever before," said RCB Bank Market President John Sturd. "RCB Bank and our employees are happy to help Angels in the Attic fill that need."
In addition to the monetary donation from RCB Bank, their employees donated enough to sponsor Christmas gifts for four local families.
Angels in the Attic is a local non-profit that serves the community by networking with other area groups, businesses, churches, and organizations to better assist individuals that are struggling. Their thrift store items support programs for back to school supplies, a food pantry, medications, utility and rental assistance and clothing for individuals in need.
RCB Bank is a community bank with locations across Kansas and Oklahoma. Founded in 1936, RCB Bank is committed to serving its communities with conservative banking practices and progressive banking products. Learn more at RCBbank.com or give us a call at 855.BANK.RCB. Member FDIC, Equal Housing Lender, NMLS #798151.