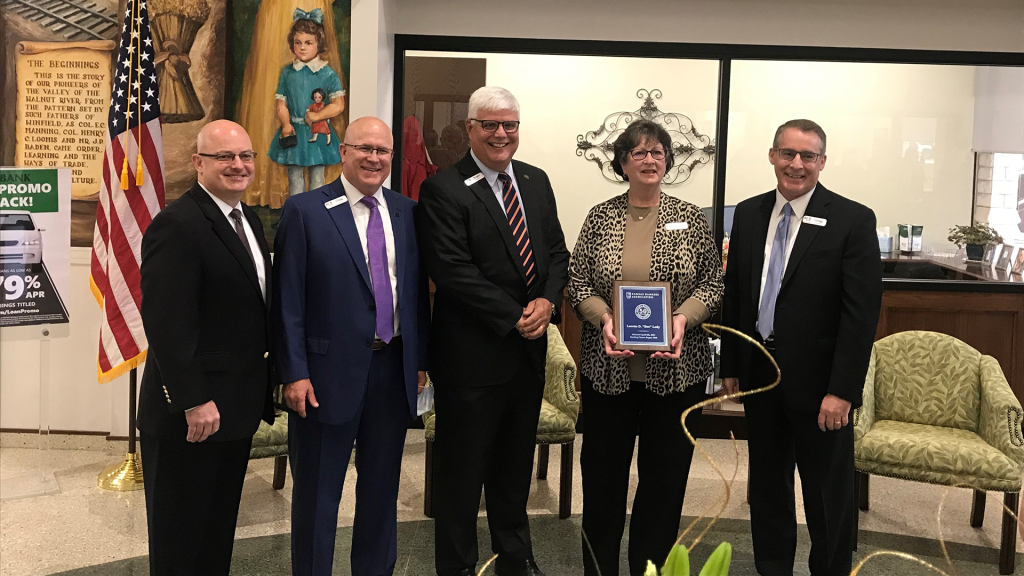 WINFIELD, Kan. – The Kansas Bankers Association is pleased to honor Loretta (Dee) Ledy for over 50 years of service in Kansas banks. Dee began her banking career in 1968 at First Federal Savings and Loan when she was a senior at Winfield High School.
Over the next 27 years, Ledy advanced from a teller to the Senior Vice President of Real Estate Lending. She served as the lending coordinator for secondary market loans, a CRA compliance officer, quality control, reviewed consumer loans, and assisted with loan acquisitions and real estate appraisals.
In 1995, Commerce Bank acquired Union National Bank, formerly known as First Federal Savings and Loan.  At that time, Ledy joined  the First National Bank of Winfield and CornerBank family. For the next 21 years, she served as Senior Vice President of Lending and Secondary Market Lending Coordinator for CornerBank.
"I love helping customers and am proud to have assisted three generations of customers realize their dream to purchase, remodel or build a home," said Ledy.
When RCB Bank purchased CornerBank in 2016, Ledy continued serving customers as Assistant Vice President of Real Estate, Consumer and Commercial Real Estate Lending. She looks forward to serving her fourth generation of customers and continues to focus on giving the best customer service possible.
Dee is also active in the Winfield Soroptimists, Lions Club and First United Methodist Church. She has been happily married to her husband Mike for 52 years. They have two children and one grandchild, Skyler.
Pictured left to right: Doug Warham, President of Kansas Bankers Association; Craig Myers, CFO, RCB Bank; Roger Mosier, President, RCB Bank; Gregg Conklin, Winfield Market President.
RCB Bank is a community bank with locations across Oklahoma and Kansas. Founded in 1936, RCB Bank is committed to serving its communities with conservative banking practices and progressive banking products. Learn more at RCBbank.com or give us a call at 855.BANK.RCB. Member FDIC, Equal Housing Lender, NMLS #798151.