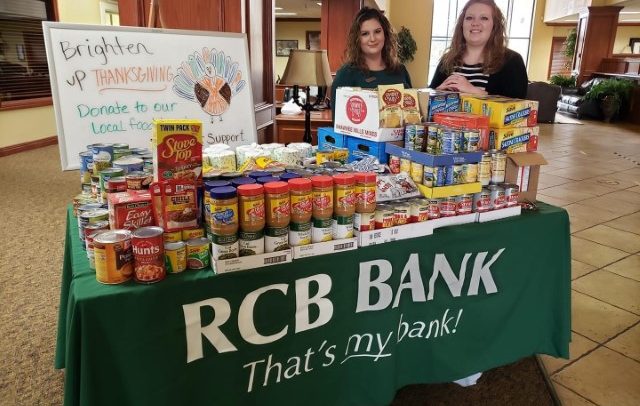 DRUMRIGHT, Okla. – Until November 17, the RCB Bank in Drumright is accepting donations for the local food bank. RCB Bank is located at 121 W. Broadway St.
"We are proud to help people in our community during the holiday season," says RCB Bank Retail Coordinator Stephanie Rose.
The food bank requests donations of canned tuna and chicken, canned fruits, soup and stew, beans (canned or dry), canned vegetables, cereal and oatmeal.
"We have done this event for several years and hope to donate more than ever this year," said RCB Bank Market President Curtis Bales. "Every little bit counts when fighting food insecurity."
Pictured from left to right: RCB Bank teller Laurelle Casteel and RCB Bank Customer Service Representative Rebekah Blansett show the current donations.
RCB Bank is a community bank with locations across Oklahoma and Kansas. Founded in 1936, RCB Bank is committed to serving its communities with conservative banking practices and progressive banking products. Learn more at RCBbank.com or give us a call at 855.BANK.RCB. Member FDIC, Equal Housing Lender, NMLS #798151.