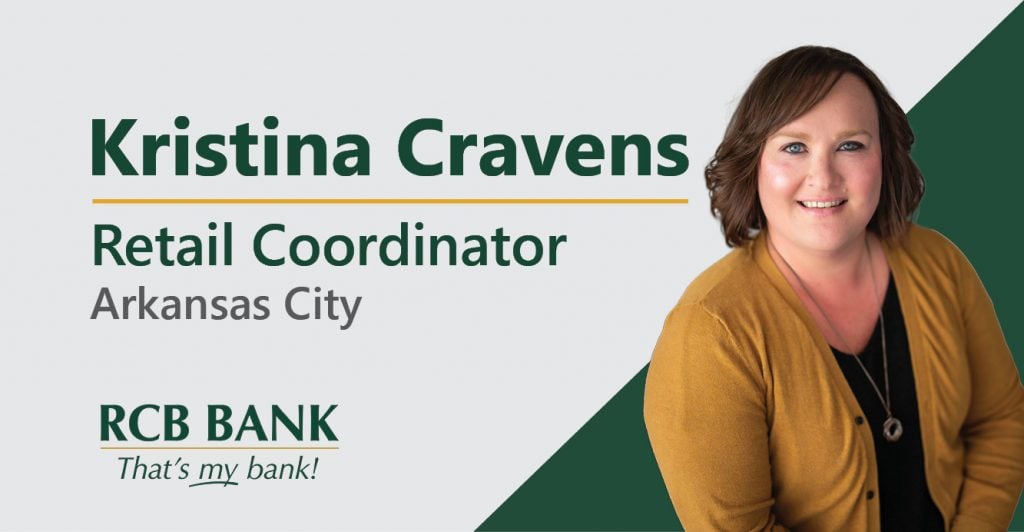 Arkansas City, KS – RCB Bank announces its newest Retail Coordinator, Kristina Cravens. Having been a part of the Ark City market since the inception of her banking career in 2012, Kristina recently transitioned from the role of Lead Teller to Retail Coordinator. Each transition has been met with excitement and determination, as her career prospects and professional growth evolve.
During Kristina's tenure at RCB Bank, she spent a year and a half as a Lead Teller, and prior to that as a Customer Service Representative for approximately eight years. During this time, Kristina honed her skills and gained valuable experience that prepared her for this new position.
As Retail Coordinator, Kristina now spearheads the retail side of banking, overseeing the team of CSR's and tellers while maintaining crucial support for the branch. Her strengths lie in her enthusiasm and leadership, qualities that inspire and motivate her team toward achieving exceptional results.
When asked about her aspirations in the new role, Kristina expressed enthusiasm for the diversity it promises. She looks forward to a role where each day offers more unique challenges and opportunities.
As a resident of Arkansas City her entire life, Kristina brings a deep-rooted connection to the community, mirroring the values held dear by RCB Bank, which is known for its community involvement. Her commitment to the community is noteworthy, as she supports several local organizations and actively engages with community events and programs.
On a personal note, Kristina proudly mentions her husband, Chanse, and her two children, Gunner (20) and Anna (17), highlighting the importance of family in her life. Kristina also noted that she enjoys off-roading adventures in her Jeep and cherishes spending quality time with family and friends.
In a world filled with banking options, RCB Bank stands out, according to Kristina, due to its unwavering dedication to customer service. RCB Bank prides itself on taking exceptional care of its customers, a testament to the values that guide Kristina's professional journey.
As Kristina takes on this new role as Retail Coordinator, her story serves as an inspiration for those who dare to chase their dreams, showing that with dedication and determination, one can achieve remarkable success within a community-driven bank like RCB Bank.
RCB Bank is a community bank with locations across Kansas and Oklahoma. Founded in 1936, RCB Bank is committed to serving its communities with conservative banking practices and progressive banking products. Learn more at RCBbank.bank or give us a call at 855.226.5722. Member FDIC, Equal Housing Lender, NMLS #798151.