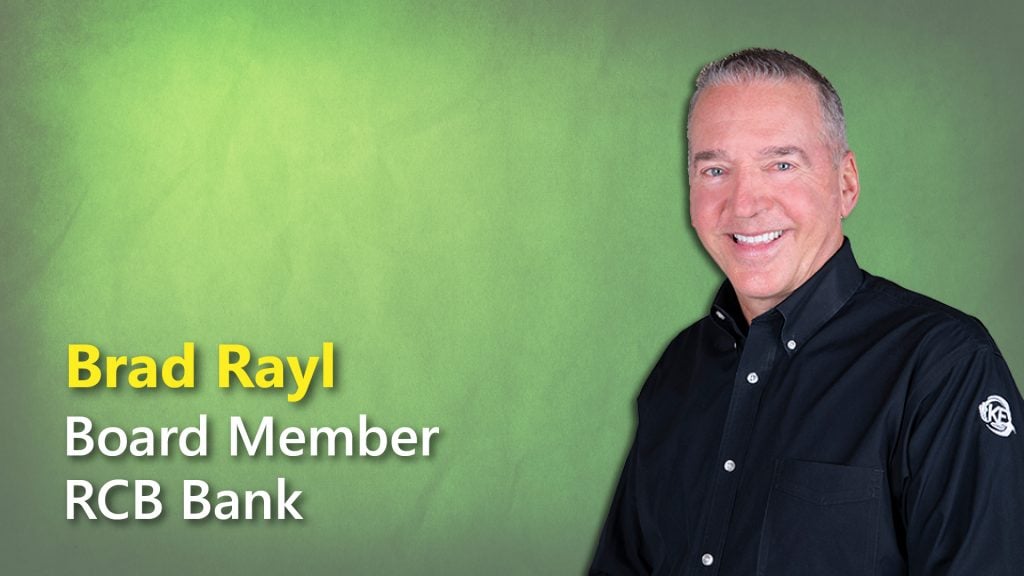 CLAREMORE, Okla. – RCB Bank is pleased to announce that Brad Rayl has joined the Board of Directors. Since 1990, Rayl has been serving the insurance needs of local businesses, industry leaders and ag-based operations in Kansas.
"I am excited to join the RCB Bank board and hope to contribute to their continued success," Rayl said.
Rayl, a graduate of Kansas State University in Agricultural Sciences, was instrumental in the founding of Kansas Ethanol, an 80-million-gallon fuel alcohol facility. He also was involved in the purchase and creation of Kansas Protein Foods, which makes soy-based products for the food industry.
"Brad provides our board with an important perspective from our Kansas customers." said Roger Mosier, RCB Bank President and CEO. "Our recent growth in the Kansas markets has been an important part of our bank's success. Brad has a strong background in Kansas and is active throughout RCB Bank's Kansas footprint."
Rayl was on the Kansas State Fair Board for 21 years and currently sits on the boards at Kansas Ethanol, Barkman Honey and Kansas Fair Grounds Foundation.
Rayl and his wife Jolie operate Rayl Angus Ranch. He and his wife have two children, Abby and Parker.
RCB Bank is a $3.8 billion community bank with locations across Oklahoma and Kansas. Founded in 1936, RCB Bank is committed to serving its communities with conservative banking practices and progressive banking products. Learn more at RCBbank.com or give us a call at 855.BANK.RCB. Member FDIC, Equal Housing Lender, NMLS #798151.