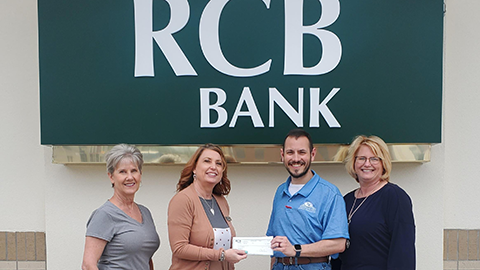 VINITA, Okla. – RCB Bank helps sponsor the Vinita Girls Senior Tea and Senior Boys Lunch meal, which are hosted by the Vinita Lions Club each year.
"The Lions Club plays an important role in the community," RCB Bank Market President Eddy Allensworth said. "RCB Bank is proud to support this organization and the work it does helping the young men and women who will be our future leaders."
RCB Bank donated $400 total – $200 to the Girls Senior Tea and $200 to the Senior Boys Lunch.
"I'm proud that RCB Bank is committed to continue this support for the Vinita community," Allensworth said.
Pictured, from left, Vinita Lions Club member Judy Echenrode, RCB Bank Community and Customer Relations Rep and Lions Club member Marlene Kincade, Lions Club member Andrew Haire, and Lions Club member Michelle Allard.
RCB Bank is a $4.1 billion community bank with 65 locations in 36 cities across Oklahoma and Kansas. Founded in 1936, RCB Bank is committed to serving its communities with conservative banking practices and progressive banking products. Learn more at RCBbank.com or give us a call at 855.226.5722. Member FDIC, Equal Housing Lender, NMLS #798151.