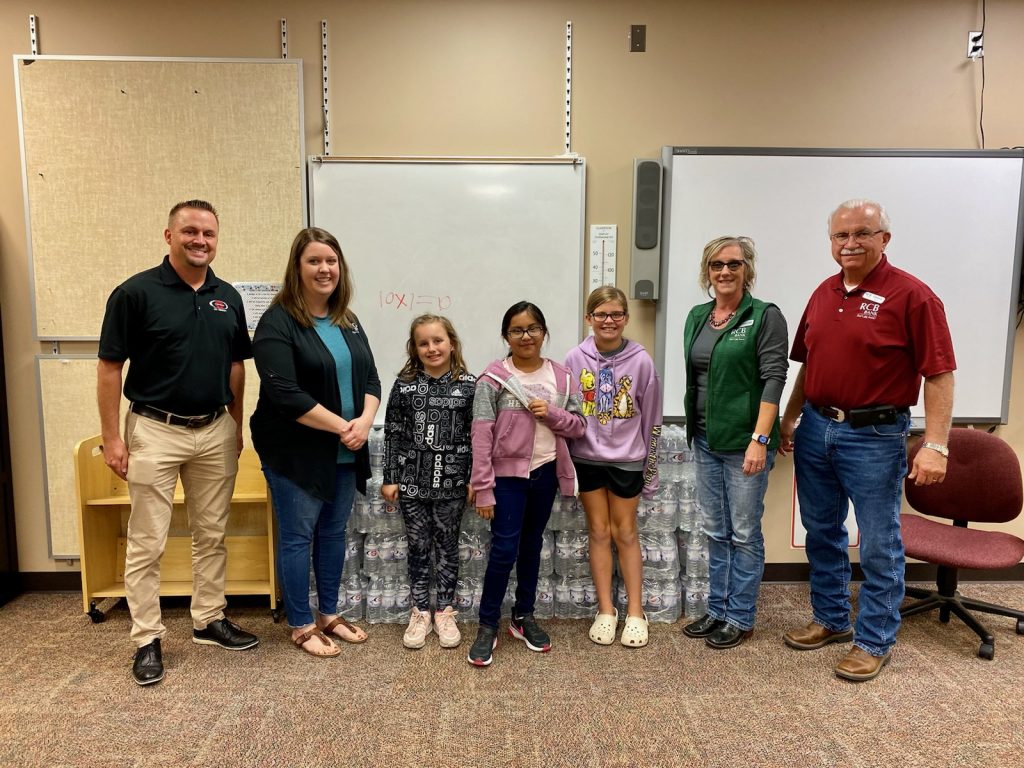 BLACKWELL, Okla. – RCB Bank employees and Shepherd Oil Co. recently teamed up to donate bottled water to Blackwell Elementary School.
Because of the COVID-19 pandemic, students are asked to bring a water bottle each day because the water fountains can only be used to refill bottles. Many times, students forget to bring a bottle, and the donation of 25 cases of water will help fill the gap.
When RCB Bank employees became aware of the issue, they believed it would be a good way of helping the children out.
Photo cutline: Shepherd Oil Co.'s Jeremie Niccum (left), RCB Bank AVP Retail Coordinator Brianna Turner (second from left), RCB Bank Customer Service Representative Melinda Wynn (second from right) and RCB Bank Blackwell Market President Dennis Buss (right), recently donated 25 cases of bottled water to Blackwell Elementary School. Also pictured are Blackwell Elementary students, from left, Kodi Price, Mackenzie Alvarado and Bailey Payne.
RCB Bank is a community bank with locations across Oklahoma and Kansas. Founded in 1936, RCB Bank is committed to serving its communities with conservative banking practices and progressive banking products. Learn more at RCBbank.com or give us a call at 855.226.5722. Member FDIC, Equal Housing Lender, NMLS #798151.