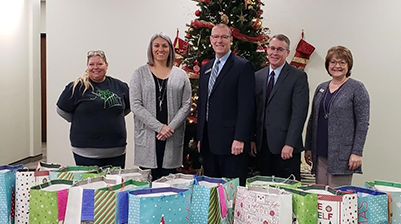 ARKANSAS CITY, Kan. — RCB Bank employees in Arkansas City brought Christmas to four local families.
"As employees of RCB Bank, we are proud to be able to give back to the community," said Retail Coordinator Kim Fleetwood. "We have loved working with Angels in the Attic over the past four years to identify families in need and provide gifts for them."
Pictured left to right: Ivy Beals, Angels in the Attic; Brandi Soule, loan administration assistant; John Sturd, RCB Bank market president; Gregg Conklin, RCB Bank market president; Kim Fleetwood, retail coordinator.
RCB Bank is a community bank with locations across Kansas and Oklahoma. Founded in 1936, RCB Bank is committed to serving its communities with conservative banking practices and progressive banking products. Learn more at RCBbank.com or give us a call at 855.BANK.RCB. Member FDIC, Equal Housing Lender, NMLS #798151.