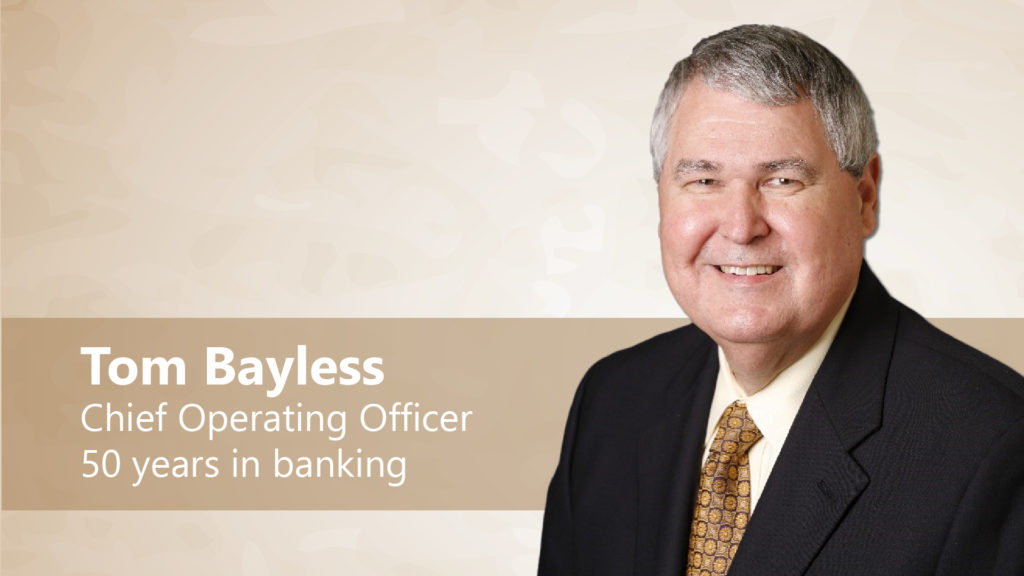 CLAREMORE, Okla. – Tom Bayless will retire after 50 years in banking and 30 years working for RCB Bank. He is currently the Chief Operating Officer and Executive Vice President of RCB Bank.
"Tom kept RCB Bank on the cutting edge of technology for years," said RCB Bank President and CEO Roger Mosier. "He anticipated the needs of our customers and worked tirelessly to make their experience better."
Bayless spearheaded the effort to implement electronic and online banking platforms. He also helped RCB Bank become one of the first banks to implement remote deposit capture for businesses.
Loan officer Mandy Cannon remembers another side of her boss. "When I missed work for a month with a family illness, Tom checked on me and my family before anything else. It confirmed to me that he is a man of God who cares for others and that family is a priority."
Tom understood RCB Bank's connection to family and community from an early age. His grandfather was a cashier at Rogers County Bank when it first opened in January of 1936 and his father was best friends with Stan Robson, whose father founded Rogers County Bank.
"It is amazing how many connections people in Claremore have to RCB Bank," said Bayless.
"I will miss all of the employees, the challenges of growing the bank, and most of all, Myrtle Prather's cinnamon rolls."
RCB Bank is a community bank with locations across Oklahoma and Kansas. Founded in 1936, RCB Bank is committed to serving its communities with conservative banking practices and progressive banking products. Give us a call at 855.BANK.RCB. Member FDIC, Equal Housing Lender, NMLS #798151.